JFRL have improved our analysis and management systems to ensure the high reliability of all tests.
We are accredited and certified by the International and Japanese organizations shown below.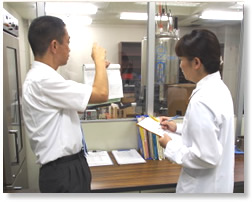 All of our laboratories are certified according to ISO9001. In addition, we provide a wide range of ISO/IEC 17025 (General requirements for the competence of testing and calibration laboratories) accredited testing services, for example nutritional components (vitamins etc.) and toxic substances
(3-monochloropropane-1,2-diol etc.).
We are approved by the Ministry of Agriculture, Forestry and Fisheries (MAFF) as a certifier for JAS certification (dressings (including mayonnaise.), dried soup, flavored seasonings, organic agricultural processed foods, bread crumbs).
We are accredited by the Ministry of Health, Labour and Welfare (MHLW) as a testing laboratory to inspect imported foods for pesticides, antibiotics, heavy metals, environmental contaminants, aflatoxin, and food additives.
Our laboratories are certified with GLP (Medical devices and Pesticides) & GMP (Drugs, and Medical devices) regulations.
We are accredited by the U.S. Food Safety Inspection Service (FSIS) to inspect Japanese export beef for antibiotics and pesticides.